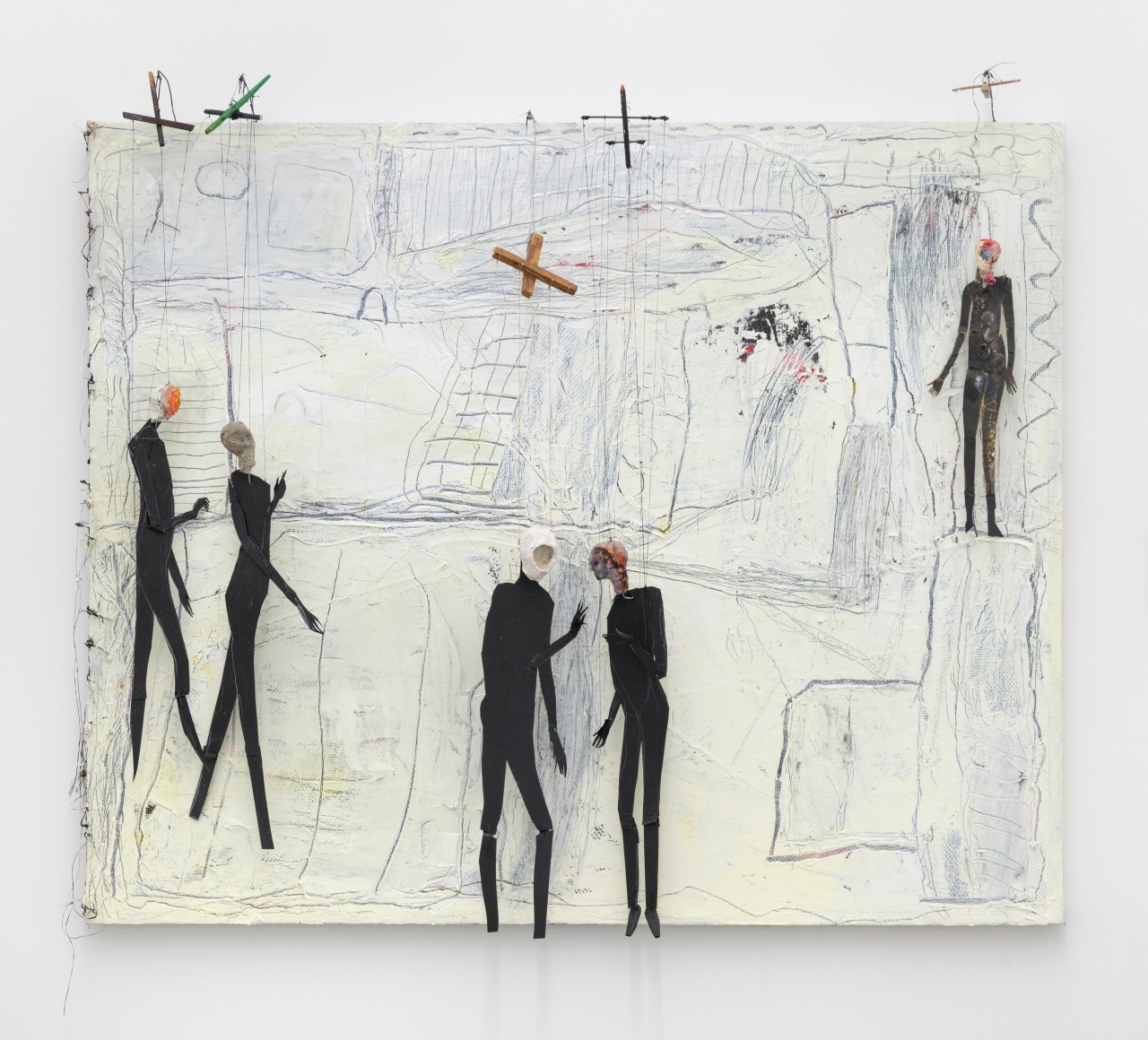 Elemental Theatre, 2022
oil, acrylic, ink, pigments, and ash on monk's cloth, Papier-mâché, paper, wood, string, and wire
57 x 60 x 8.25 in.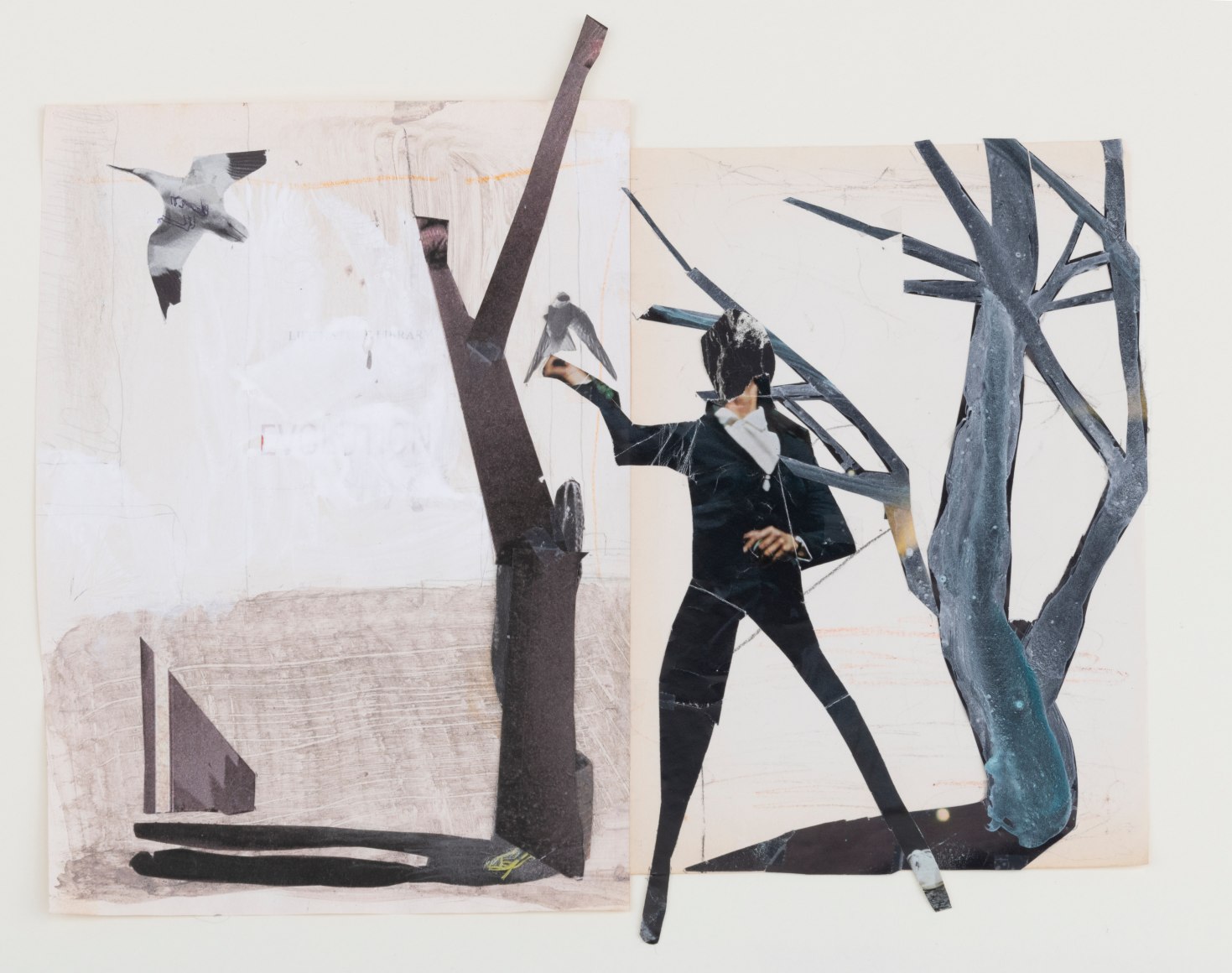 Abracadabra, 2020
ink, gouache, ash, tempera, graphite, crayon, glue, string, tape and collage on paper
12.625 x 14.75 in.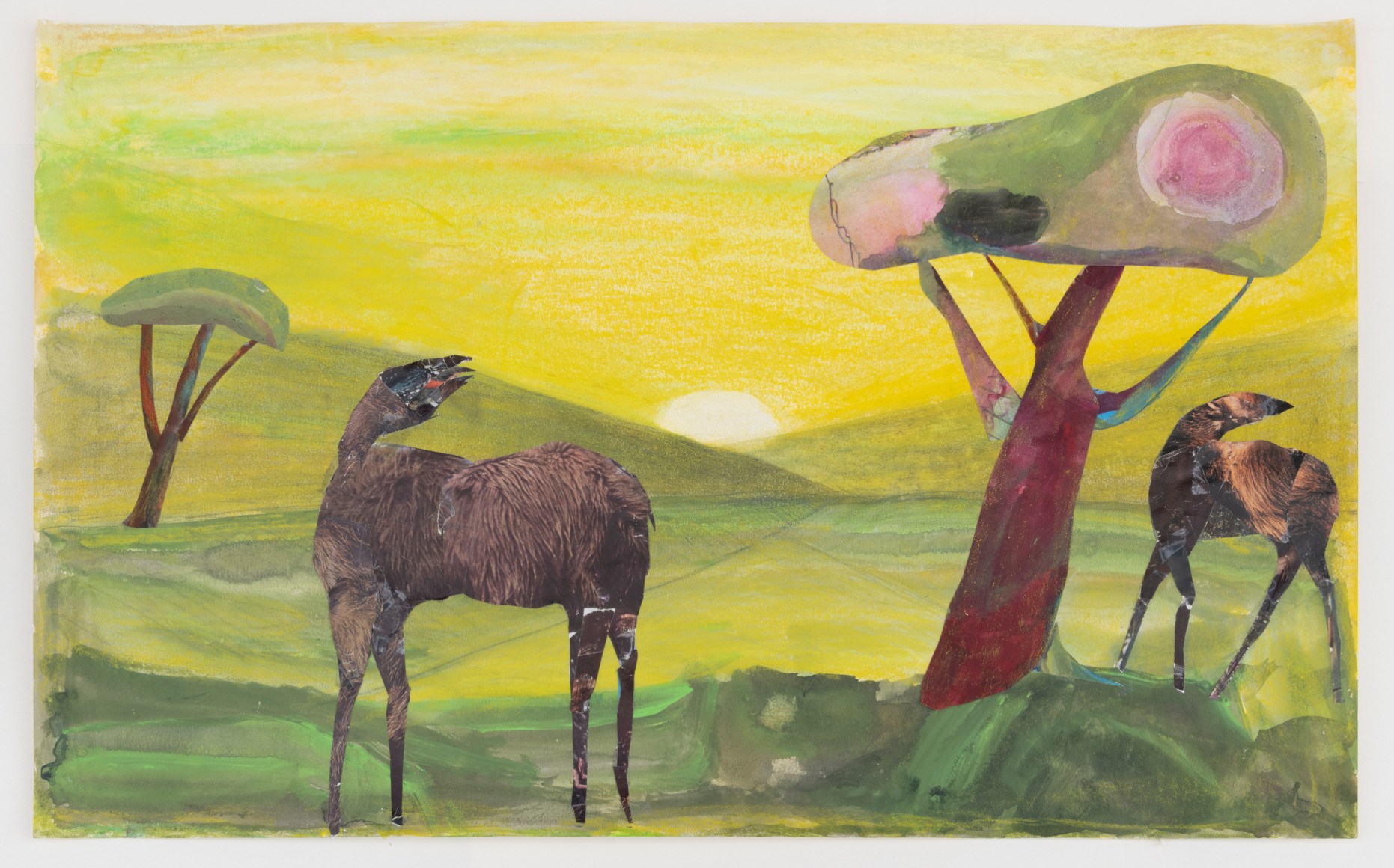 What you wonder about is what you know-as well as the other way around, 2020
ink, gouache, ash, acrylic, tempera, watercolor, graphite, crayon, glue, tape and collage on paper
14 x 22.5 in.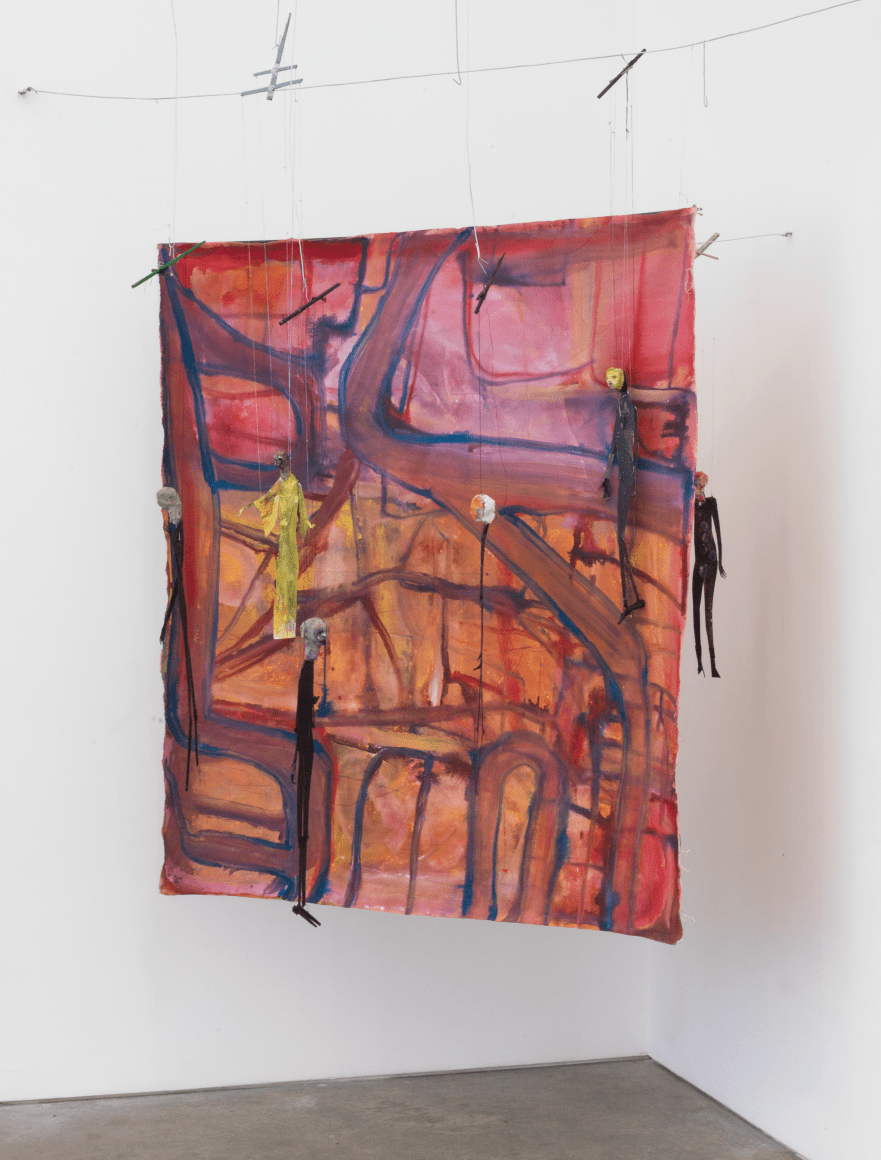 Puppets and Scenery from Scenographic Plays, 2019
mixed media
82 x 100 x 53.5 inches
The Language of Birds, 2019
oil, acrylic, ink, pigments, graphite, felt, burlap and glue on canvas
68.75 x 54 inches
The Language of Birds
The human mind is a pot made of air-dry clay. There are some springtime breezes blowing in there, whirring around, but nothing else. A spring rain came once and left water in someone's pot, but soon a dog came by and lapped it out. A bird landed in someone's pot once and sat in there for several days. It would not leave.
To communicate with a bird, use a confident voice. For instance, you might say: "My mother, who is dead, came to me and put her arms around me and told me she loved me. I asked her if she knew how much I had always loved her and told her I understand all she did to take care of me." Stand very still and wait for a reply. The silence may be tense. Your stomach may be a sack of flour with ants inside, but if you stand still, chest out and chin down, the bird will one day reply.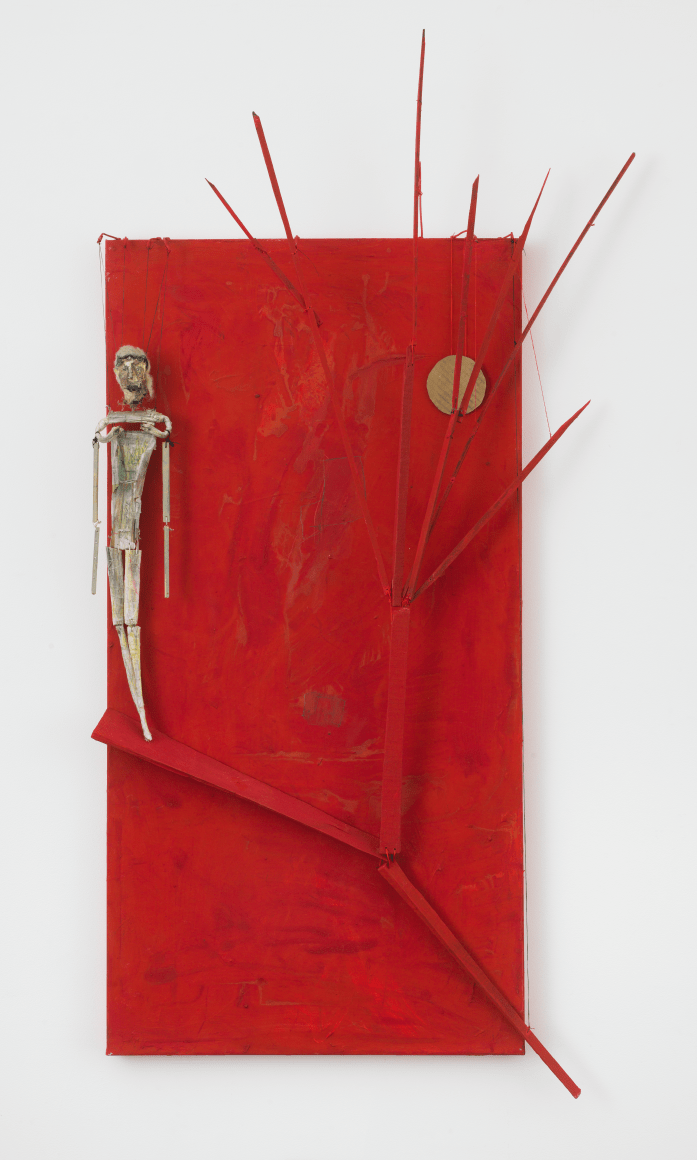 Venus, 2019
acrylic, ink, graphite, and crayon on canvas, wood, modeling compound, paper, tape, string, cardboard, polyester, and wire
58.25 x 30.75 x 7 inches
Our next port of call is Venus. If we think the moon has puzzling features, they are nothing compared with those of Earth's older sister. Venus is believed to have hosted life for over two billion years, but runaway greenhouse effect vaporized its oceans long ago. Today, Venus is veiled in an impenetrable quilt of sulfuric acid. It is the hottest planet in the sky and its dazzling shroud of poison yellow clouds make it the brightest. Poets call Venus the morning star; its original name was Lucifer. By any name, Venus is a harsh and mysterious world, its landscape a wasted red inferno of volcanic mountains where a single day lasts 5,832 hours.
When one first comes to Venus, the mind steams and stews with questions: "Am I controlled from forms above?" "Does this stew in my head not taste pleasing to others?" "Is there a face hiding in here, under a potato for instance?" One's ideas sour into innumerable bogs of stagnant foul perspective. Open your mind. Imagine pouring it into a large saucepan. See your mind swirling before you. Pour 4 cups of vegetable broth into your mind. In the same saucepan, stuff a flamboyant plant. A flamboyant plant is one that is bright, elaborate and draws attention to itself and its surroundings. It is to be used when a bold stroke is needed. Pour the saucepan's contents back into your head.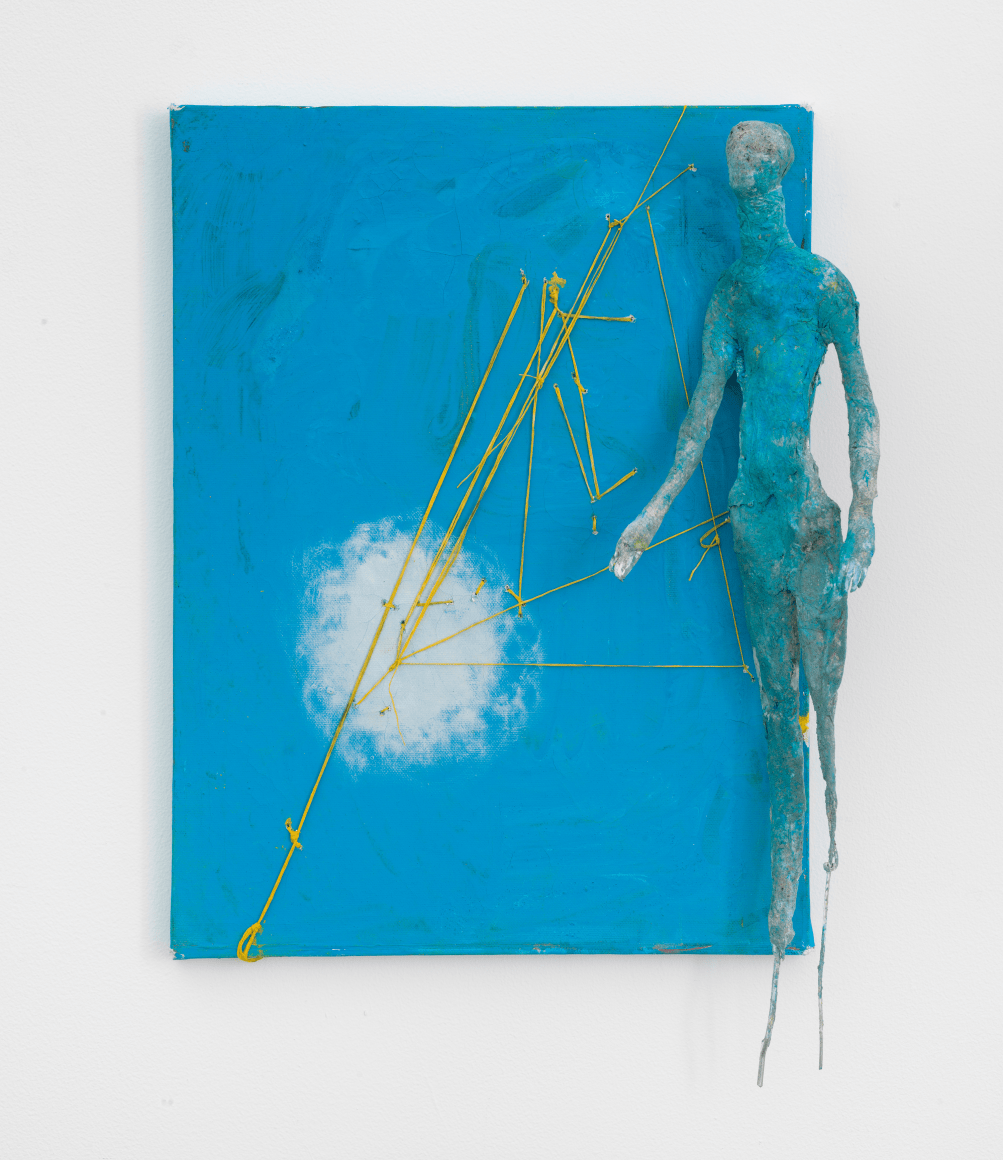 Moon Bather, 2019
acrylic, oil, ink, pigments, graphite, crayon and sewing on canvas, metal, modeling compound, paper, high-density polyethylene, string and wire
18.5 x 13.25 x 4 inches
It is said universal hungers are few. Still, who among us does not dream hotly of the moon? Moon Bathing has become one of the most popular hobbies in the country. In practical and economical terms, it offers more thrill and excitement than any other: one's shimmering body amongst the shut wildflowers, bathed in the moonlight of a blue prairie and the smells of a grey horned owl.
Having resolved to write about the moon, I collected data on it. My findings were so ill matched to the altitude of my theme, they serve only as a thank offering:
Some thousands of years ago a merchant wandering the desert stopped to pour milk from a skin bottle onto a rock. The merchant cast the rock into the sky and the moon was born. The bottle was made of a calf's stomach. In the heat, its contents had turned to curds. Enfeebled as it is by this story, and all other processed horrors of humanity, the moon still gives its light to us. I do not believe it is made of cheese. I do not. And we do not need to name it. The moon is beyond our understanding.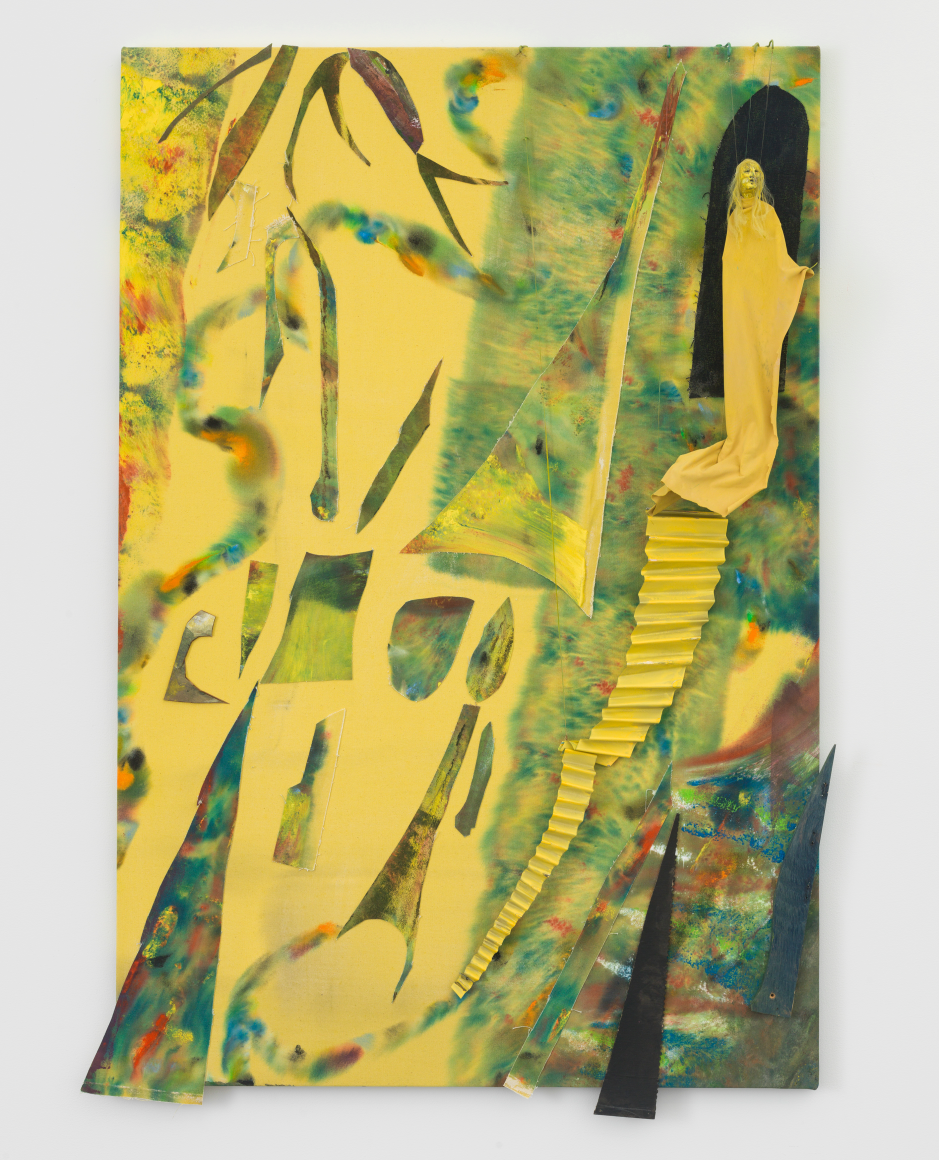 The Inner House Within the House, 2019
acrylic, ink, pigments, crayon and sewing on canvas, wood, metal, fabric, modeling compound, cardboard, string, glue and wire
49 x 33 x 4.25 inches
The human mind wages war on its body. Like a woodpecker or an elf owl, it lives in an empty hole where it peers out at the world. When we are very young, our mind is more at peace with us. But soon it does not care for us. And by the time we are older it leaves us, exiting its house like a chick breaking out of its shell.
Some houses are simply emotional structures. There are no walls, only emotions and a doorway to the inner house within the house. The inner house is constructed of imbedded materials such as fern leaves. It is flooded and its lack of walls indicates a lack of understanding.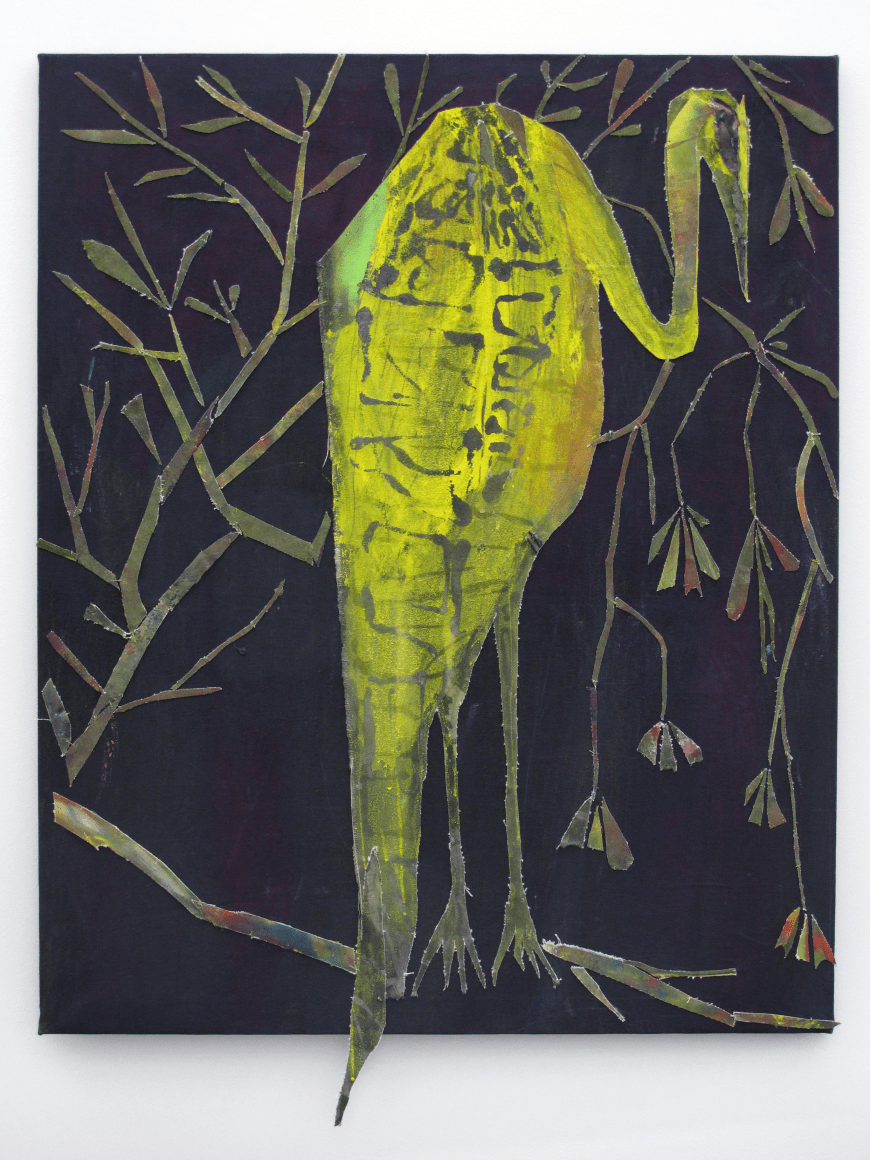 Called into this World from the Heavens, 2019
acrylic, ink, pigments, graphite, crayon, glue and sewing on canvas
43.75 x 32.75 inches
From herons to hawks, kinglets to wrens, birds are called into this world from the heavens. Some are improved with colored tops or a musical pipe inside. Some are immune to gravity and float like a hot-air mobile. Some birds are large vessels of gold that date back to the second millennium BC where they sat guard in dark trees and clutched branches with their sharp feet. Scientists recently opened one such bird to find it was also made of copper, lead, asbestos, beryllium, lithium, coal, oil and tin.
We see birds everywhere we go. One reason birds are so abundant is they can eat almost anything: plants, dirt, insects, lizards, snakes, other birds, nuts, berries, grains, garbage, blubber, tinfoil, masking tape, plastics, soups, rodents, pets, fish, stones, and sand. Birds can store meals for later in large pockets inside their bodies. They can flip on their backs and swim for long distances. They can whistle a tune. They can brighten a somber winter with a splash of color. Truly birds touch us in unexpected ways.
The flights of birds are studied as omens. When we see a bird in flight, we see a doorway. In comparison, human flight is crude and wooden. But do birds really exist in this world? Just because we hear and see them everywhere, doesn't mean they are really there. Have you ever wondered why we don't hear birds at night? Where do they go? Over the millennia, birds have developed hard beaks for digging vast underground structures. While we sleep, just inches below us the earth is like a bee's nest, teeming with birds. All night long they feast on worms and mate with one another.
The famous performer, Bing Crosby, once fell through the earth and into a nocturnal bird hive. When he explained what he had seen, people only thought he was seeking popularity for its own sake with his story. And even though he looked unnaturally tired and thin, and was wearing a cheap gold barrette on the left side of his hair to keep the loose dirt from falling into his face, he wore an expensive jeweled one in the back of his hair, shaped like a bird.